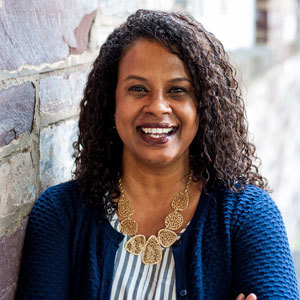 Sushama Austin-Connor is the founding program director of the Black Theology and Leadership Institute (BTLI) at Princeton Theological Seminary as well as the program administrator for Continuing Education and the Center for Black Church Studies. Over her 15+ career in religion, media, and program management/development, she has been a regional manager for the national offices of the United Church of Christ (UCC), the protestant chaplain at Wellesley College and the Administrative Director of the Summer Leadership Institute at Harvard Divinity School (HDS).
She earned her BA in English from Fisk University; an MA in Media and Visual studies (with a focus on documentary) from Emerson College; as well as a Masters of Theological Studies (MTS) from HDS. She is currently pursuing a DMin in leadership at Drew University. Sushama is working towards ordination in the United Church of Christ
Disrupting Balance Statement:
I am Disrupting Balance by making sure that I always remember that I am enough.
Connect with Sushama on Twitter @sushama and
About Me.
---
Listen to Disrupting Balance on Apple podcast and Spotify.
Enjoyed the episode? Please share.
And...don't forget to subscribe, rate and review.
Interested in telling your story on the podcast? Follow the "Be My Guest" link on the website.
Follow me on social media @disruptingbalance on Instagram, Facebook, Twitter & Pinterest.
Get the latest updates in the Balance Disruptor community.
---
Hanifa Barnes, Esq, MBA is a speaker, decision strategist, and seasoned executive, who has nearly 15 years of experience in personal and professional change management. She is a wife and mother of four who is an operations leader by day and building her dream career by night.
For booking and press inquiries please follow the website link to "Contact Us".